Thank You

A special thank you to the Todd family for their $200 donation.
Dear Michele & Parent Support Group,
We would like to give you this donation in honor of our sons, James & Jacob's 1st birthday! We asked our friends and relatives to give a donation to the P.S.G. instead of presents for the boys' birthday. We are so thankful and grateful for all that was done for James and Jacob and us during their 2-month stay in the NICU. We can't say enough about how wonderful everyone is there! We hope that this donation can be used to help other parents and little miracles like ours! Thanks again for all your hard work, love, and care!
Sincerely,
David, Alison, James & Jacob Todd

Mother's Day Gifts & Visits

Our Tuesday night support parents, their spouses and NICU grads had refreshments for the families in the NICU and handed out personalized canvas bags to all the Moms. Each bag had their baby's footprints stamped on it by the NICU staff and then was hand painted by NICU support group members Colleen Ornosky, Michele Shara & Christine Weston to read "Believe in Miracles" with baby's name. Many parents expressed their appreciation for the bags and the opportunity to talk to parents of NICU grads.

Memorial Day Gifts

Special gifts were given out to families in the NICU and Moms on bed rest in the PNU. Special photo albums were given out to NICU families encouraging them to collect memories of all the preemie milestones and special events.
The Moms on bed rest in our Perinatal Unit received magnetic notepads and pens to help them remember the important questions they want to ask the doctors during the early morning rounds.

Birth Announcements

Congratulations go to Jennifer & Ralph Wnuk on the birth of their daughter, Mackenze Shaye, on May 7, 2002 (at 39 weeks). Mackenze weighed in at 6 lbs. 15 oz and was 20 ½ inches long. Big sister is Madison.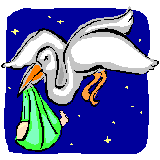 Do You Want to Volunteer to Support Families?

We have several opportunities available. . . Tuesday night visits to the NICU & Perinatal Unit, Monthly follow-up calls to new discharges & phone support matching parents with similar situations.
What do I need to do to become a support parent?
- be out of the NICU a year
- attend training class
- be a parent or grandparent of a NICU grad
Interested? Call Michele Shara at 610-439-5618. The final training class of this year will be held on July 17th and 24th from 6:30-9:00 p.m. Registration is required to attend this class. The next training class will not be until next year.

Looking for a Gift Coordinator

This person would purchase the materials needed to make gifts for NICU/PNU, schedule special group sessions for big holiday projects, coordinate the distribution of projects to parents who are interested in making gifts while at home, and making sure gifts are to the hospital before the day they are to be given out or coordinating with visitation parents how gifts will be delivered/picked up.
Anyone interested please call or e-mail Michele Shara 610-439-5618, nicushara@hotmail.com

Thank you

Thank you to everyone who has been donating preemie outfits or unopened formula. We have given several families items to take home their NICU grads. It is very much appreciated.


A Special Thanks

Special thanks to Sherry Royer, who had a preemie son, and runs the Christian Mothers Network. They donated bags of magazines, crosswords and journals. The women on bed rest really appreciated them.

4th Annual Chinese Auction a Success

Thanks to everyone who came and participated or mailed in pre-sale sheets. We raised over $6,700. Because all of you realize how important it is to support families in the NICU and at home with their preemies, you gave generously of your time and money.
Special thanks to the following parents, grandparents, aunts & friends who volunteered during the auction:

Cheryl Endy

Colleen & Robert Ornosky

Michele Shara

Christine Weston

Maria Miller

Tim Paul

Brian Weston

Ann Pritchard

Nicole & James Bogac

Tracy Lagler

Lee Ann Harwi

Christina Traupman

Mary DiMichelle

Melody & Jeff Pavlacka

Sandy Mink

Dawn Whitehead

Tammy Vosburg

Jenn Christman

Debb Mann

Melissa Molnar

Alison & David Todd

Dorothy McFadden

Jenn Mink

Tracy Cooper

"Believe in Miracles" Bibs

More "Believe in Miracles" bibs were ordered to give as graduation gifts to families as they bring their NICU grads home.
The follow-up program that consists of support parents calling newly discharged families to see how they are doing and inform them of our group, has been going well.
After the support parents confirm family's mailing addresses, we mail out a follow-up letter about our services and a "Believe in Miracles" bib complete with drawing of baby in cap & gown holding his diploma. Our way of acknowledging the wonderful accomplishment of your baby's homecoming!!
Anyone interested in helping with this program can call Michele Shara to sign up for our next training class in July. (610-439-5618)

Attention all Parent Support Group Members


Emergency Planning Meeting

Wednesday, August 7, 2002 at 6:30pm
LVH CC & I-78,
Classroom 1
Please plan on attending
Children are welcome
Developmental Products ordered for NICU
One of our goals this year was to grant as many of the items on the NICU & PNU's wish lists as we could financially.
A major item was developmental products for the babies, which cost our group $1800. Developmental products are items that the staff can use to assist babies in proper positioning, increased comfort & security, and as possible treatment options. The products we purchased for the unit included:
- 18 Baby Bendy's – pliable yet supportive "stick-like"objects that can be bent to form a "womb-like" boundary for the babies.
- 24 Frogs – cloth covered, "frog-shaped" beanbag like items to help with proper positioning of the babies.
- 12 Snuggle-Ups – cloth "pocket" with velcro straps to keep babies feeling safe & secure & in good position
- Tucker Sling – looks like a baby front carrier attached to a fitted sheet. Keeps baby upright in isolette when elevated. Sometimes used for reflux
- 6-Tiny Tubs with Supports – special tubs with mess supports perfect for giving tiny preemies their first baths
We are excited to be able to provide these items to our NICU for the continued support of our precious babies & families and to best assist our dedicated staff.

Special Thanks

A special thanks to Amanda & Christina Endy who donated two tape players from their birthday celebration. As mentioned in a previous newsletter, the girls raised $1200 from their 5th birthday party from family & friends donating to our group in memory of their Nana.
Thanks to Tracy Lagler for making lullaby tapes for the NICU. The tapes and recorders will be used in and near the babies' isolettes for relaxation.

Thank you to the following support parents who went in to the NICU and Perinatal Units for our Tuesday night visitations.

End of March

Dorothy McFadden & Gayle Jones
April

Carol Fryling & Michele Keba

Maria Miller

Michele Keba & Ann Pritchard

Christine Weston & Carol Fryling
May

Jennifer Burkhardt & Jennifer Christman and their families for our annual Mother's Day social,
Personalized bags given to
each NICU mom

KerryAnn William

Donna Ney & Lee Ann Harwi- gave our Memorial Day gifts to families in the NICU and Moms on bed rest in the Perinatal unit

Foundation Helps Pregnant Smokers Get Off to a 'Great Start'-from NPA Newsletter

The American Legacy Foundation launched its 'Great Start' campaign on December 4, 2001, to help hundreds of thousands of women who smoke during their pregnancy to stop.
Great Start is the first national campaign of its kind in the U.S. The campaign provides pregnant women throughout the country with free access to the first national telephone "Quitline" that provides free counseling sessions to help callers stop smoking. This service is available 24-hours-a-day, toll free at 1-866-66-START. Spanish-language counseling is also available.
Women who call the Quitline receive free, culturally appropriate educational materials that describe the health hazards of smoking; these materials are also provided to physicians and other health care providers on request.
A nationwide television advertising campaign was held for several months in late 2001 and the first few months of 2002 to publicize the campaign. The commercials aired in all 50 states and the District of Columbia, with Utah First Lady Jacalyn S. Leavitt, and wives of governors of 16 other states appearing in the ads in their home states.
"Nearly 50,000 women smoked during pregnancy in 1999, including 18 percent of young women between the ages of 15-19," said Dr. Cheryl Healton, Legacy president and CEO.
"We know that many of these expectant mothers want to stop smoking, and would stop if they received assistance. We hope that Great Start will provide tens of thousands of women with the help they need to quit smoking during their pregnancy, and to quit for good."
Healton said that smoking during or after pregnancy has been linked to one in 10 infant deaths. Smoking dramatically increases the risk for a wide range of reproductive health problems including miscarriage, stillbirth, and premature delivery. She also cited a recent study by the U.S. Center for Disease Control and Prevention which reported that women who smoke are nearly 70% more likely to have a low birth weight baby.
The public's interest in this new resource has been amazing and genuinely heartening, proving that Legacy and the American Cancer Society (ACS), which runs the Quitline, have made available a badly needed method of providing tobacco cessation assistance.
From the December 4 launch of the Quitline through February 4, 8,400 people had called the Quitline. Of these, 6,430 (77%) were pregnant and calling on their own behalf, requesting information about quitting cigarette use; 5,228 requested Great Start counseling.
The Quitline is sponsored by Legacy and managed by ACS. For more information about Great Start and Legacy, visit Legacy's web site at www.americanlegacy.org.

Safety alert: Use #77 on your cell phone


(this is an email that has been circulated and was sent to us by a friend)
SOMETIMES WE FORGET TO WATCH AND BE CAREFUL ABOUT THINGS THAT SHOULD BE OBVIOUS TO US!! PLEASE TAKE A COUPLE OF MINUTES TO READ THIS. IT MIGHT BE IMPORTANT TO YOU ONE DAY!!
I never even knew about this #77 feature!
This actually happened to one of my dearest new friend's daughter. Her daughter, Lauren, is 19 yrs old and a sophomore in college. This happened to her over the Christmas/New Year's holiday break. It was the Saturday before New Year's and it was about 1 PM in the afternoon. Lauren was driving from here, Winchester, to visit a friend in Warrenton. For those of you who are familiar with the area, she was taking 50 East towards Middleburg and then was going to cut over to 66 via 17 driving 55 mph. Those of you who aren't familiar with this area - 50 East is a main road and two lanes each side with a big median separating East and West lanes), but is somewhat secluded, meaning mostly residents along the road, rather than commercial businesses. Lauren was actually following behind a state police car shortly after she left Winchester and was going just over 65 mph since she was following behind him. An UNMARKED police car pulled up behind her and put his lights on. My friend and her husband have 4 children (high school and college age) and have always told them never to pull over for an unmarked car on the side of the road, but rather wait until they get to a gas station, etc. So Lauren had actually listened to her parents' advice, and promptly called #77 on her cell phone to tell the dispatcher that she would not pull over right away. She proceeded to tell the dispatcher that there were 2 police cars, one unmarked behind her and one marked in front of her. The dispatcher checked if there were 2 police cars where she was. There wasn't and she was connected to the policeman in front of her and he told her to keep driving, remain calm and that he had back up already on the way. Ten min. later 4 cop cars surrounded her and the unmarked car behind her. One policeman went to her side and the others surrounded the car behind. They pulled the guy from the car and tackled him to the ground..........the man was a convicted rapist and wanted for other crimes.
Thank God Lauren listened to her parents! She was shaken up, but fine. I never knew that bit of advice, but especially for a woman alone in a car, you should not pull over for an unmarked car in a secluded area. In fact, even a marked car after dark should follow you to a populated area. Apparently police have to respect your right to keep going to a "safe" place. You obviously need to make some signals that you acknowledge them (i.e. put on your hazard lights) or call #77 like Lauren did. I am so thankful that my friend was just sitting at our book club meeting telling us this scary story, rather than us at her house consoling her! Be safe and pass this on to your friends. Awareness is everything!
You know you have a child with special needs when.......
You compare ER's instead of grocery stores.
You compare your child's oxygen saturations.
You view toys as "therapy".
You don't take a new day for granted.
You teach your child HOW to pull things out of the cupboard, off the bookcases, and that feeding the dog from the table is fun.
The clothes your infant wore last fall still fit her this fall.
Everything is an educational opportunity instead of just having plain old fun.
You cheer instead of scold when they blow bubbles in their juice while sitting at the dinner table (that's speech therapy), smear ketchup all over their high chair (that's OT), or throw their toys (that's PT).
You also don't mind if your child goes through the house tooting a tin whistle.
You fired at least 3 pediatricians and can teach your family doctor a thing or two.
You can name at least 3 genes on chromosome 21. (You really know your toast if you can spell the full names correctly).
You have been told you are "in denial" by at least 3 medical or therapy professionals. This makes you laugh!
You have that incredible sinking feeling that you've forgotten SOMETHING on those few days that you don't have some sort of appointment somewhere!
You get irritated when friends with healthy kids complain about ONE sleepless night when they're child is ill!
Your vocabulary consists of all the letters OT, PT, SP, ASD, VSD, BPD, ROP, IFSP, and more.
You keep your appointment at the specialist even though a tropical storm is raging because you just want to get this one over with.....you waited 8 months to getit.....and besides, no one else will be there!
Fighting and wrestling with siblings is PT.
Speech therapy occurs in the tub with a sibling.
When potty training is complete, you take out a full-page public notice in the Washington Post.
When the Doctors/Specialist/Hospitals etc. all know you by your name without referring to your chart.
You keep a daily growth chart.
You calculate monthly statistics for the number of times your child vomits, and did this for more then one year.
You phone all your friends when your child sits up for the first time, at age two.
With a big smile on your face you tell a stranger that your four year old just started walking last week.
Her medical file is two inches and growing.
You have a new belief.....that angels live with us on earth.

THESE MUMS HAVE SPECIAL GIFTS

Most women become mothers by accident, some by choice, a few by social pressures, and a couple by habit. This year, nearly 100,000 women will become mothers of handicapped children.
Did you ever wonder how mothers of handicapped children are chosen? Somehow I visualize God hovering over Earth selecting his instruments for propagation with great care and deliberation. As he observes, he instructs his angels to make notes in a giant ledger. 'Armstrong, Beth, son, patron saint Matthew. Forrest, Marjorie, daughter, patron saint Cecelia. Rudledge, Carrie, twins, patron saint...give her Gerard. He's used to profanity.'
Finally he passes a name to an angel and smiles, 'Give her a handicapped child.' The angel is curious, 'Why this one, God? She's so happy.' 'Exactly,' says God. 'Could I give a handicapped child a mother who does not know laughter? That would be cruel.' 'But has she patience?' asks the angel. 'I don't want her to have too much patience, or she will drown in a sea of self-pity and despair. Once the shock and resentment wear off, she'll handle it. She has that feeling of self and independence that is so rare and so necessary in a mother. You see, the child I'm going to give her has his own world. She has to make him live in her world, and that's not going to be easy.'
'But, Lord, I don't think that she even believes in you.' God smiles, 'No matter. I can fix that. This one is perfect. She has just enough selfishness.'
The angel gasps, 'Selfishness? Is that a virtue?' God nods, 'If she can't separate herself from the child occasionally, she'll never survive. Yes, here is a woman whom I will bless with a child less than perfect. She doesn't realize it yet, but she is to be envied. She will never take for granted a spoken word. She will never consider a step ordinary. When her child says Momma for the first time, she will be present at a miracle and know it! When she describes a tree or a sunset to her blind child, she will see it as few people ever see my creations.' 'I will permit her to see clearly the things I see...ignorance, cruelty, prejudice...and allow her to rise above them. She will never be alone. I will be at her side every minute of every day of her life, because she is doing my work as surely as she is here by my side.'
'And what about her patron saint?' asks the angel, pen poised in midair.
God smiles, 'A mirror will suffice.'
by Erma Bombeck

Mean Moms

Someday when my children are old enough to understand the logic that motivates a parent, I will tell them:
I loved you enough...to ask where you were going, with whom, and what time you would be home. I loved you enough...to insist that you save your money and buy a bike for yourself even though we could afford to buy one for you. I loved you enough...to be silent and let you discover that your new best friend was a creep. I loved you enough...to make you go pay for the bubble gum you had taken and tell the clerk, "I stole this yesterday and want to pay for it." I loved you enough...to stand over you for two hours while you cleaned your room, a job that should have taken 15 minutes. I loved you enough… to let you see anger, disappointment, and tears in my eyes. Children must learn that their parents aren't perfect. I loved you enough...to let you assume the responsibility for your actions even when the penalties were so harsh they almost broke my heart. But most of all, I loved you enough...to say NO when I knew you would hate me for it.
Those were the most difficult battles of all. I'm glad I won them, because in the end you won, too. And someday when your children are old enough to understand the logic that motivates parents, you will tell them...
Was your Mom mean? I know mine was. We had the meanest mother in the whole world! While other kids ate candy for breakfast, we had to have cereal, eggs and toast. When others had a Pepsi and a Twinkie for lunch, we had to eat sandwiches. And you can guess our mother fixed us a dinner that was different from what other kids had, too. Mother insisted on knowing where we were at all times. You'd think we were convicts in a prison. She had to know who our friends were, and what we were doing with them. She insisted that if we said we would be gone for an hour, we would be gone for an hour or less. We were ashamed to admit it, but she had the nerve to break the Child Labor Laws by making us work. We had to wash the dishes, make the beds, learn to cook, vacuum the floor, do laundry, empty the trash and all sorts of cruel jobs. I think she would lie awake at night thinking of more things for us to do. She always insisted on us telling the truth, the whole truth, and nothing but the truth. By the time we were teenagers, she could read our minds. Then, life was really tough! Mother wouldn't let our friends just honk the horn when they drove up. They had to come up to the door so she could meet them. While everyone else could date when they were 12 or 13, we had to wait until we were 16. Because of our mother we missed out on lots of things other kids experienced. None of us have ever been caught shoplifting, vandalizing other's property or ever arrested for any crime. It was all her fault. Now that we have left home, we are all educated, honest adults. We are doing our best to be mean parents just like Mom was. I think that is what's wrong with the world today. It just doesn't have enough mean moms

We need your help to keep this group going !!!!

I need your support. My life has taken a radical turn and I need to spend the next two years focusing on keeping everything a float. For these personal reasons I will need to delegate my numerous responsibilities within the NICU Support Group. I am asking that everyone think about what you might be able to do in order to keep our group alive. Whether you can do a little or a lot, if each person is willing to do something we can remain a vibrant and useful resource for families who have had NICU babies. Please mark your calendars for Wednesday, August 7th at 6:30pm and plan on attending the Emergency Planning Meeting at Lehigh Valley Hospital CC & I-78, Classroom 1. Thank you for your support! Believe in miracles! Michele Shara