HAVE FUN ~ WIN ~ SUPPORT OUR CAUSE
If you want to support our program,
SELL PRE-SALE TICKETS!!
even if you only buy them yourself. If everyone who received this newsletter purchased $5-10 in tickets, we could help every family and fund all our programs for the year. THIS IS OUR ONLY FUNDRAISER.
Please make a commitment to yourself to sell pre-sale tickets and mail them into Michele Shara by May 13th (the sooner the better).
Thank you for your support! Good Luck!!
Mail to: Michele Shara, 2814 Russell St, Allentown, PA 18104
On the home page is a flyer you can post at work, etc. to advertise the Chinese Auction. Please fill in your name and phone number on the sheet before posting.
Chinese Auction Update
Thank you! You all did an amazing job getting items/certificates donated. Because of your great work, we do not need to solicit more donations. However, please let us know any other donations you already have coming in.
Sign up to help at the auction or before!!
We need volunteers to help with
Thursday, May 17 set up in the evening
Friday, May 18 8:00 am – 8:00 pm
Saturday, May 19 8:00 am – 6:00 pm
Can't get out of the house to help?
· Write up pre-sale tickets
· Write up tent cards
Right from your home
Call or e-mail Michele, 610-439-5618, nicushara@hotmail.com today to volunteer

Birth Announcements
Congratulations to Leanh & Stephen Graeff on the birth of their son, Sheldon, on February 9, 2002. Sheldon weighed in at 7 lbs 5 oz and was 20 ¼ inches long. Big brothers are Tyler and Austin
Congratulations also go to Heidi and Solon Shade on the birth of their son, Ian Rourke, on January 22, 2002. Ian weighed in at 7 lbs 3 oz and was 19 ½ inches long. Big brothers are Bailey, Neil, and angel Connor.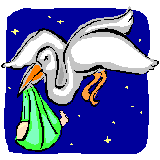 Thank you
to everyone who got their March of Dimes walk registration to me by March 1st. We made the registration bonus and will be receiving extra Dorney passes to raffle off amongst our walk team.
There is still time to Sign-up Today!

St. Patrick's Day & Valentine's Day gifts appreciated
Thank you Dawn Whitehead for making these gifts. The families in the NICU loved them.

Thank you to Lisa Ratan, Mary Kay consultant and Christine Weston, Support parent, who visited the PNU on St. Patrick's Day and surprised all the Moms on bedrest by painting their nails.

Easter Gifts
Thank you to Dawn Whitehead and Colleen Ornosky for stitching all the bears for the NICU families. Thank you to Michele Shara for putting together the baskets for the Moms on PNU.

Easter Party
Fun was had by everyone at this year's Easter Party. We had 28 children running and crawling around hunting for the 16 dozen eggs that were hidden by the Easter Bunny.
Thank you to Kerry Ann Williams and Colleen Ornosky for organizing the party and stuffing all those eggs with stickers, finger puppets, rings, bracelets and other assorted toys for the older children and goldfish and cheerios for the infants and toddlers.
Thank you to everyone who brought goodies for us to eat. Everything was delicious!!

Thank you to our Tuesday night support parents
who did bedside visits at the NICU and Perinatal Unit
February and March (as of writing)

Donna Ney

Lee Ann Harwi

Carol Fryling

Michele Keba

Kerry Ann Williams

Jennifer Christman

Michele Shara

Julie Sodl
gave out St Patrick's Day gifts

Families in Need
We have two Moms who are looking for someone to talk to about Cystic Fibrosis and Cranial Syntosis surgery.
If you would like to help, call Michele Shara, 610-439-5618.

Do you have e-mail?
We are currently putting together an e-mail list of our families. This list will be helpful to us in so many ways such as:


decrease the cost of mailing newsletters and receive them quickly


Send pre-sale sheet for the Chinese Auction and then you can forward it to people in your "Address book"


Make people aware of special needs for volunteers or services that happens last minute or between newsletters


Give you an easy way to respond back to the group with just a click. RSVP to parties, sign up for committees, voice your ideas and ask questions.
Send your email address to Michele Shara at nicushara@hotmail.com or Colleen Ornosky at rccornosky@erols.com

Looking for a Gift Coordinator
This person would purchase the materials needed to make gifts for NICU/PNU, schedule special group sessions for big holiday projects, coordinate the distribution of projects to parents who are interested in making gifts while at home, and making sure gifts are to the hospital before the day they are to be given out or coordinating with visitation parents how gifts will be delivered/picked up.
Anyone interested please call or e-mail Michele Shara 610-439-5618 , nicushara@hotmail.com

We need families to sign release forms so that we can use their pictures to create a brochure for high-risk moms. This brochure will show pictures of babies at different gestational ages and what parents might be able to expect when their baby is born at that gestational age.
At present expectant parents are not allowed to have tours of the NICU due to confidentiality. Other moms, confined to their beds, are unable to make the journey. Presently, I have babies at 26, 28 and 29 wks. gestation. I still need all the rest.
Call Michele if interested. 610-439-5618.

Thank you for all those who have donated their baby clothing, formula and diapers. Families who have received them are grateful.

Clothing available to anyone who needs it
Barbara Charowsky, Pottsville area
twin girl clothing sizes 0-3 months to 6-9 months
email her at charowskys@earthlink.net
Jamie Swanger
preemie baby clothes
boys up to 3 years old
girls up to 1 ½ years
(she has a lot of 6-9 months)
call her at 610-261-0894

Postpartum Depression
Mixed emotions are common after childbirth. Up to 30% of women experience postpartum depression. Some symptoms of postpartum depression are:
· crying
· anger
· confused feelings
· inability to concentrate
· changes in eating patterns
· hopelessness
· over concern for the baby
· lack of concern for the baby
· thoughts of harming yourself or the baby
Mothers of premature infants are more prone to postpartum depression. If feelings persist, it is important that you seek professional help.
Postpartum Peer Support Counselors are available to talk to. Contact 610-402-CARE

Breastfeeding Classes
Call 610-402-CARE for more information or to register.

Note from Parents
Thank you very much for the "NICU graduate bib"
It was greatly appreciated.
Bill, Stephanie and Benjamin Burger


Note from NICU Nurse
Dear Parent Support Group,
My apologies for not getting this out sooner. I found my other note I wrote down between the seats of my car.
Thank you for the money, it was greatly appreciated but even more I thank you for your kindness and caring, it means a lot to me.
I am again walking, which was my Christmas miracle and have started back to work part time. I did miss those beautiful babies.
You are a special group of people. You have all dealt with a lot of problems and stress and yet you continue to reach out and help others. You do a very special job in our unit and we thank you. I thank you personally for your thinking of me. Please keep me in your prayers and I will keep you in mine.
Very Sincerely,
Rosalie Boucher