Lehigh Valley Hospital
NICU Parent support Group Newsletter
February 2002
Annual Easter Egg Hunt and Party
Saturday, March 16th
3:00pm
LVH, Classroom 1

Everyone interested in attending our annual Egg Hunt and Party needs to RSVP to Colleen Ornosky, 610-867-0704 with your children's names and ages by no later than March 12th.

Please bring your own basket or bag for each child to collect their eggs. We will have it rain or shine, it will either be inside or outside depending on the weather. However, we will all meet inside to start.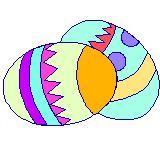 New follow-up support
program started
In the past few months the NICU support group has started a new follow up program at the request of recently discharged families. With this new program, discharged families are called by a trained support parent from their geographical area to see how they are doing at home and to let them know we are available to help if they need us. We confirm their address and let them know that a small "graduation" gift will be arriving in the mail to them soon.
Prior to January, I had been making all the calls myself to see if the program would work, starting last month a new team of support parents have begun making calls in their area. What a tremendous relief to spread the wealth and a comfort for families to know there is someone who lives nearby who can understand. If you would be interested in joining our team of follow-up callers please contact Michele Shara 610-439-5618 or nicushara@hotmail.com to sign up for the next training class. We are especially in need of families who speak Spanish and from Lehighton area and more Northern areas.
Thank you to the following parents who are currently on the follow-up team.

Joan Fabian-Stroudsburg area

Dorothy McFadden-Allentown area,

Anne Usuka-Pottsville area

Kim Manning-Sugarloaf

Patti Watson-Quakertown area
Even if someone is listed from your area, we could still use two people from the same area. If you feel this is an area you would like to help with please call!

Thank You
To Dawn Whitehead for making the Valentine's and St. Patty's Days gifts for the NICU visitations.
For Valentine's day we gave out doorknob hangers that said, " I love my baby…no smoking" made of foam with wood lettering and artwork. A small letter was attached explaining how, as parents of preemies, we often have to advocate for our children, even when it is not popular. Explaining to family and friends the importance of not smoking around a baby, especially one with compromised lungs, and to be extra careful when people visit to ask them if they have a cold and to please wash their hands before holding the baby.
For the families on bed rest in the PNU, we gave "Chicken Soup for the Couple's Soul" daily reminders and valentine designed journals for the single moms.
For St. Patty's day, families will be receiving clear plastic frames with wooden shamrocks that have March 17th written on them. The PNU moms will get their nails done.
If you would like to be a volunteer for the group but you cannot be out of the house much yet, we have volunteer opportunities that you can do from your home. Such as making the gifts for visitations, providing follow-up phone support, solicit for Chinese Auction donations, collect pre-sale orders, type or write out certificate sheets for the Auction, write out "donated by" cards, number tickets, write articles for the newsletter, schedule speakers, and more! Please contact Michele Shara, 610-439-5618 or nicushara@hotmail.com to sign up today!
Thank you to our Tuesday night
support parents
January
Michele Shara
Gayle Jones
Carol Fryling
Joan Fabian
Maria Miller
Jennifer Burkhardt

Jennifer Christman
Nicole Bogac

February – as of writing
Julie Sodl
Jennifer Burkhardt
gave out Valentine's gift to families
Chinese Auction is just
around the corner!!!!
Don't wait to collect your donations because the pre-sale list deadline is March 16th. What that means is that all of the donations that we have received up until that date go on a list for people to purchase their tickets ahead of time. Each person writes the number of tickets they would like placed in each bucket on the list and we place the tickets in for them the days of the auction. This enables people who live far away or who would not be able to attend the auction to participate, and they do not need to be in attendance to win. The pre-sale sheet also gives businesses free advertising, since it is circulated to all of our families (about 1100), hospital employees (thousands) and everyone's family and friends. With the addition of e-mail and the web site our pre-sale sheets have an even larger target audience.
Enclosed you will find a copy of our donation request letter, which you can copy, write your name, address, phone number on and send to businesses that you know and frequent. Think of family and friends who own businesses or work at places that would be interesting donations. Whenever you go to swim class, gymnastics, a play, a store, dinner, or work take along a copy of the letter, you never know who might donate unless you ask.
Please bring any Chinese Auction donations that you have to the Egg Hunt to be included in the Presale!! Please call Cheryl Endy 610-261-2559 or Michele Shara 610-439-5618 if you have donations and will not be able to attend the meeting. Pre-sale items due March 16th to be included on the list.
March of Dimes Walk America is here!
For those of you who walked last year, you should have received your pledge cards in the mail already. If you did and are planning on walking again, please send your registration cards ONLY, not your pledges to Michele Shara, 2814 Russell St. Allentown PA 18104. All of our cards need to go to the March of Dimes together so our team is registered correctly. IF you already mailed it in please call me and let me know.
If you did not walk last year but would like to join our team this year, please contact Michele or come to our March meeting to get a pledge card. You can walk with your kids (in strollers) or you can choose to walk without them. You can walk the whole race, about 8 miles or at any time you can take a "Victory Van" back to the party at the end. It really is a nice day and you don't notice that you just walked 8 miles! Walk as a family, get friends to join in…..there are prizes from the March of Dimes and food and massages at the end! If we have at least 15 people registered by March 1st, the MOD will give us 4-four packs of Dorney All day ride passes to use as a raffle with everyone from our group who walks!!!!
Can't walk but want to help….there are lots of ways to volunteer the day of or before the walk. Just call me.
Michele 610-439-5618
PICNIC PUZZLEMENT ????????
Due to the fact that so many people who's children graduate from our NICU live north of the Lehigh Valley, we are trying to find a way to have our annual PICNIC someplace a little more northern (sort of in the middle), for instance, the Lehighton area. We are currently searching for a picnic area, campground, park that will take reservations and has a covered area. A place that is safe and not heavily populated with the general public is preferable. If anyone knows of such a place please contact Colleen Ornosky, 610-867-0704 or Michele Shara 610-439-5618. I know that someone told me that they just bought a camp/picnic area within the last year or two, are you still out there? Please call us. We need to reserve this area ASAP, most places get booked for the summer by February, so we need to work fast.

Do you have e-mail????
We are currently putting together an e-mail list of our families. This list will be helpful to us in so many ways such as:


decrease the cost of mailing newsletters and receive them quickly


Send pre-sale sheet for the Chinese Auction and then you can forward it to people in your "Address book"


Make people aware of special needs for volunteers or services that happens last minute or between newsletters


Give you an easy way to respond back to the group with just a click. RSVP to parties, sign up for committees, voice your ideas and ask questions.
Send your email address to Michele Shara at nicushara@hotmail.com or Colleen Ornosky at rccornosky@erols.com
Community Fashion Show
The Fashion Bug in Wind Gap has asked us to be their charity. On Saturday, March 23rd at 2:00pm at the Fashion Bug in Wind Gap there will be a Fashion Show, proceeds from the show will be donated to our group.
Fashion Bug is requesting that we provide volunteers to man an information table and hand out flyers about our group. If you live in the area and would like to help, please call Ann Pritchard, 610-863-5259 to sign up. If you would like to be a model for the fashion show (all sizes welcome) call the Fashion Bug, there are limited spaces available but all models receive a 30% discount on the clothing.
Want coupons and Savings for Pampers?
Go to: http://www.pampers.com/en_us/personal/jhtml/ppregister.html
Letters from parents
Dear Michele
Just a quick note to Thank You for putting together such a lovely "tea" for the NICU group. I really enjoyed visiting with some of the other mothers and some of the NICU staff. Your dedication to this group is so wonderful…and all the fine accomplishments of the parent support group are a tribute to your fine leadership and the hard work of all involved!! Thank you for getting involved and making things happen! Let me know how I can help in the future. Sincerely, Linda Kauffman
NICU Parent Support Group-
Just wanted to write and say "Thank you" for letting me get my picture taken with my mom and dad. Also, my mom and dad really appreciate the Christmas cookies that you left for them. Your thoughtfulness was greatly appreciated. I wish all of you a Happy Holiday! Love baby Benjamin Burger
Family remembers Nana
Cheryl Endy's twin daughters, Amanda and Christina were about to celebrate their 5th birthday, but they didn't feel much like celebrating. Someone very special to them, their Nana had just passed away. Cheryl tried to decide whether to even have a party. The decision was made to have a party, however, her girls surprised her when they said they did not want any gifts. The Endy family decided to include in their invitations that the girls would rather have you donate money in memory of their Nana, which would go to the LVH NICU to purchase something special in her memory. Family and friends who attended were so moved by the thoughtfulness and generosity of these little girls that they gave more than they probably would have spent on the gifts. Later that night, as Cheryl was placing the cash and checks in a safe place she decided to add them up. Noticing that the amounts were so generous she guessed a few hundred dollars. What she never expected was that her daughter's had just raised $1200.
Special thought and consideration is going into what would be the most appropriate item to purchase that would benefit the unit and be a symbol of Nana's love.

Getting the Meds In!!
(taken from Triminic Parents' club magazine)
Some techniques to help get the medicine down.
Keep it cool to dull a liquid medicine's flavor, try putting it in the refrigerator. But check with the pharmacist first to make sure that chilling it won't alter its effects.
Give incentives A small reward-be it stickers or a favorite snack-won't change the taste, but for many kids it makes a bitter pill easier to swallow.
Disguise it Mask the flavor by mixing medicine with half of a snack. Then offer the rest of the treat without any medicine. Of course, check with your doctor to make sure the prescription is effective when taken with food, and be sure your child finishes the entire serving so that she gets the full dosage. And let her know the medicine is in there so she won't distrust you if she discovers it herself.
Bypass the mouth If your child is too sick to keep anything down or squarely refuses to take his medicine, ask your pediatrician if the drug-or a similar one- can be prescribed in suppository form.
Anyone who has discovered other great ways to get your kids to take medicine please call or e-mail Colleen Ornosky, our newsletter editor and she will share them in our next newsletter.

Tooth Truths
(Triaminic Parents' Club magazine)
It's no secret that regular brushing and flossing can help prevent tooth decay. But consider these lesser known tips for keeping your child cavity free.
Eat cheese Munching on cheese after eating sugary or starchy foods can neutralize acids in the mouth, reducing the amount of plaque that forms. What's more, research suggests that certain cheeses such as cheddar, Swiss, and mozzarella, which contain the protein casein, may help strengthen tooth enamel.
Skip the raisins Although they may seem like a healthy snack food, these innocent-looking nuggets are high in sugar and tend to get stuck in kids' teeth.
Swish and rinse If brushing after every meal isn't possible, then have your child gargle and rinse with water to flush away cavity-producing bacteria.
Invest in sealants Talk to your child's dentist about dental sealant, a plastic resin usually applied to chewing surfaces of the back teeth. This protective coating buffers the enamel from plaque and acids.

Wish List for the NICU, PNU and MBU approved
The NICU Parent Support Group approved the funding of the following items at our yearly recognition dinner. Anyone who would be interested in donating items or is aware of ways for us to get discounts on any of these items please contact Michele Shara. The more we save money the more people we can help!
NICU

A stackable washer/dryer, for NICU to wash baby clothing and bedding. Presently, clothing is not coming back to the unit or is ruined. Jen and Paul Christman are generously donating their washer and dryer for this purpose. Thank you!

Developmental products-positioning tools and equipment for babies in the NICU, unfortunately these items do not last long and must be replaced often. I have contacted Cindy Max and asked her to get me in contact with the person who does the ordering so that we can fund an order of these much needed products.

Developmental products for families to take home-we would love to fund this, however we currently do not have enough funds. Instead we will gladly purchase items that would be most beneficial to the parents at our discount and offer them to families at our cost. If there are particular situations when a family can not afford an item we will absorb the cost, until our budget line is depleted.

Continued funding of ink cartridges and photo paper for digital pictures for parents.

Additional lullaby tapes and tape players-I donated blank tapes and Tracey Lagler has volunteered to make up lullaby tapes. Cheryl Endy will be donating some tape players in memory of "Nana".
PNU

A brochure or video of the NICU, with pictures of babies delivered at different gestational ages. The video that the hospital has discussed doing is still in the discussion and budget finding stage. Our group can create a brochure with pictures from our children at different gestational ages, (signed consent forms will be mandatory) and we will work with the PNU/NICU on how everyone feels the brochure needs to be worded.

Notebooks for moms of bed rest to journal and write questions, notes-we will gladly fund notebooks/journals for our high risk moms!

Activities for moms to do- we will continue our constant collection of magazines, books, videos, puzzles, small games and cards. You can drop off donations at any support group meeting or at Michele's house, just call.

We will be giving monthly gifts of projects and items that will help moms with their bed rest such as relaxation tapes, manicures & pedicures….

Mom's and PNU nurses requested information on NICU visiting hours and policies. I communicated this to Cindy Max from the NICU.

Turn on web TV's in all of the rooms- We are waiting to hear if this is a budget problem or an oversight when the units moved. If it is a budget problem we will check out the cost involved and try to budget for it after our Chinese Auction.
Mother Baby Unit

Has requested more brochures and information about the support group. I have e-mailed Renee Gombert from MBU asking her where they would like us to leave brochures and how they will be distributed so that we can tell parents and follow-up with them.

The hospital has hired 1.5 Lactation Consultants to cover MBU and the NICU. I have made contact with them and offered to fund resources and brochures on "Breastfeeding the Preemie" and Tips on productive pumping. Beth Kushner will be getting back to me with an estimate of cost of these items.

Breast pumps-If anyone has an electric pump that they know they will not be using anymore and would like to donate it to a mom who's insurance will not cover the cost, please contact Michele.
Looking for a Gift Coordinator
This person would purchase the materials needed to make gifts for NICU/PNU, schedule special group sessions for big holiday projects, coordinate the distribution of projects to parents who are interested in making gifts while at home, and making sure gifts are to the hospital before the day they are to be given out or coordinating with visitation parents how gifts will be delivered/picked up.
Anyone interested please call or e-mail Michele Shara 610-439-5618 , nicushara@hotmail.com
Upcoming gifts/projects that can be done at home:
Make up Easter baskets for NICU families and moms on PNU
Help stuff eggs for egg hunt
Call Colleen Ornosky 610-867-0704 or e-mail her at rccornosky@erols.com
You've been touched by the March of Dimes if…

You've received a polio vaccine, as well as your child.

Your baby received surfactant therapy to treat respiratory distress while in the NICU

You're aware that drinking, drugs and tobacco use during pregnancy may cause serious birth defects.

You knew to take a pre-natal vitamin with Folic Acid to help prevent birth defects like spina bifida

Your baby was cared for in a NICU
The March of Dimes funds research into the causes and treatments for prematurity, birth defects and ways to save babies. Join us April 28th as we thank the March of Dimes and parade our NICU grads as proof of the wonderful things this organization has done.
Training to be a Support Parent
If you would like to be a support parent to be able to:

Visit the NICU and PNU on Tuesdays to support families at bedside


Do phone support through our Follow-up Program


Be matched one-one to a family with a similar situation


Do special holiday family support days, i.e.-Father's Day


Spanish speaking support
Requirements:

You must be out of the NICU for at least a year


Be ready to listen to others, and not talk about your own stuff


Attend full training class


Fill out information sheet about your experience to help us match families
There are only two training classes a year. One Saturday,
March 23rd all day and one in August for two week nights. Seating is limited so please call Michele Shara 610-439-5618, early to sign up. Free training manuals will be given to each participant to help you retain important information. Excellent opportunity to support families who live far away, speak Spanish, Fathers, grandparents…..no matter how long your stay in the NICU ….5 days or 2 months…your understanding of what it is like to "go home without your baby" and wonder "why me", "what did I do or not do?" is the same for everyone.
Would you be interested in letting us use pictures of your baby when it was in the NICU for an information brochure?
We need families to sign release forms so that we can use their pictures to create a brochure for high risk moms. This brochure would show pictures of babies at different gestational ages and what parents might be able to expect when their baby is born at that gestational age.
At present expectant parents are not allowed to have tours of the NICU due to confidentiality. Other moms, confined to their beds, are unable to make the journey. The brochure, though not like actually seeing the NICU, would at least assist in alleviating some of the fears and apprehensions involved in not knowing what to expect.
Call Michele if interested in helping.

¡El grupo de ayuda del padre de LVH NICU
necesita su ayuda!
Si usted puede leer esto y/o saber hablar español, le necesitamos ayudarnos a apoyar a las familias que no hablan inglés. Actualmente, estamos consiguiendo nuestro folleto traducido a español y estamos mirando para crear una red de habla hispana de la ayuda. ¿Interesado? Llame Michele Shara 610-439-5618, si usted habla inglés, si usted habla solamente los españoles me escriben en español y haré que alguien lo traduzca para mí. Ésta es tal necesidad, yo espera sinceramente que usted considerará el ayudar
Do you have formula, diapers, baby clothing
….that you don't need anymore?
If you would be interested in donating these items to our group we will make sure that the people who need them will get them. Bring items to any monthly meeting or drop them off at Michele's house.
Do you need baby clothing, formula, diapers?
Come to our monthly meetings or call Michele